March 23, 2022
|
Last Updated October 14, 2022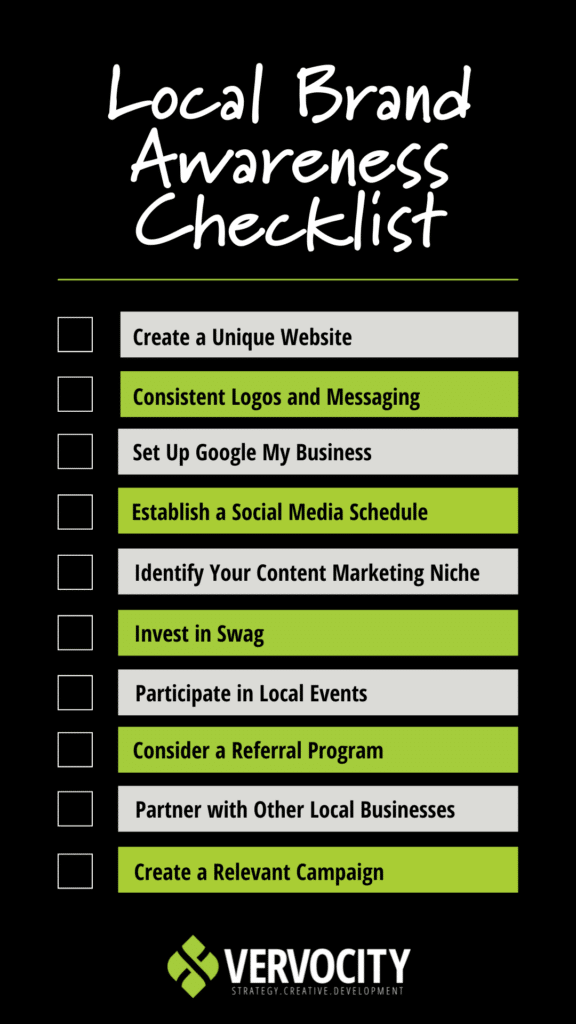 As a small business owner, increasing brand awareness in your local market is crucial to generating and retaining loyal customers. The market can be competitive, so establishing your brand locally and creating a message that is uniquely yours will help your brand stand out against the competition.
Better yet, increasing brand awareness doesn't have to be overly expensive. Small businesses may not have the budget yet for a full marketing strategy – and that's okay! To help you, we've created a checklist for increasing brand awareness in your local market. Some of the items are better left to professionals if you do not have the experience, but many of them can also be done on your own!
After you've copied the checklist for your records, continue reading to find out why brand awareness is important and how to take advantage of the items on the list.
LOCAL BRAND AWARENESS CHECKLIST
Create a Unique, Eye-Catching Website
Consistent Logos and Messaging
Set Up a Google My Business Listing (Google Business Profile)
Establish a Social Media Posting Schedule
Identify Your Content Marketing Niche
Invest in Swag (If the Budget Allows)
Participate in Local Events
Consider a Referral Program
Partner with Other Local Businesses
Create a Relevant Campaign that Speaks to Your Audience
THE IMPORTANCE OF BRAND AWARENESS
Brand awareness is exactly how it sounds – creating awareness for your brand. It is how customers come to recognize and remember your brand. Increasing brand awareness in your local market means making your audience familiar with your logo, values, messaging, and services or products.
So why is brand awareness so important? It builds a relationship between your business and your customers. Customers are more likely to trust a brand that they recognize. Brand awareness also creates a space where customers can engage with your brand and know exactly who they're doing business with. When your brand becomes a familiar face, it stays top-of-mind when consumers are ready to make a purchase or need a service. Familiarity helps you stand out against the competition and build a community of loyal customers.
BRAND AWARENESS CHECKLIST EXPLAINED
CREATE A UNIQUE, EYE-CATCHING WEBSITE
One of the first steps to creating brand awareness for your business is building a website. A website establishes credibility for your business and allows search engine users to organically find your business online with search engine optimization. The days of Yellow Pages are becoming increasingly limited, and online searches have taken over the job of finding local businesses for products or services.
A website also establishes professionalism and allows your business to take control of its story. Consumers want to know more about your business, especially consumers at a local level. Take the time to explain your story and be transparent with your customers. Let them take an inside look into how your business works.
Finally, websites offer the opportunity to list your products and services. Explain exactly what you offer to your customers, and why these products and services differ from your competitors. Identify your competitive advantage and advertise it.
This step is one that is worth hiring a professional web design company for. Hiring a professional to create an eye-catching informative website definitely has its benefits. Expert website designers and builders will make sure your site is secure, mobile-responsive, functional, and available 24/7.
CONSISTENT LOGOS AND MESSAGING
As stated in our blog post on 10 Ways to Increase Your Online Credibility, using consistent logos and brand messaging establishes trust in your brand. Customers rely more on brands that are easily recognizable. Brands with consistent presentation see an increase of up to 23% in revenue. Recognition is key to building trust in your brand. Continuously putting out content that aligns with your brand's message will make your brand more visible. (Just remember to stay honest and transparent.)
For example, think about brands like Apple and Nike. The Apple logo and Nike swoosh have become so easily recognized that the company name doesn't even need to be with the logo for consumers to recognize the brands. As a small business, you may not become as big as these two companies, but you could become that easily recognized within your own local, target market. Just make sure your logos and messaging, such as slogans and jingles, are consistent. You don't want to confuse your audience by throwing out new logos and phrases all the time.
SET UP A GOOGLE MY BUSINESS LISTING
Google My Business (GMB) Listings appear at the top of Search Engine Results Pages and are a beneficial tool in creating online brand awareness. For example, let's take a look at the Vervocity listing.
As you can see, this one listing offers a ton of information to potential clients. It offers reviews, a general business description, directions to our address, a phone number, business hours, a link to our website, and more. GMB allows customers to find our business easier, especially when searching organic search phrases like "website designer near me." It also shows that your business is verified and offers a platform for customers to leave reviews. When optimized effectively, your brand's listing could offer increased brand awareness each month. Best of all – it's free to set up!
Author's Note: Google My Business is transitioning to Google Business Profile
ESTABLISH A SOCIAL MEDIA POSTING SCHEDULE
If your business doesn't have a social media presence, it definitely needs one. If you need help deciding which platforms to use or how to get the most out of social media, check out our blog post on 10 Social Media Secrets You Need to Know.
After you've decided on your platforms, it's time to establish a consistent social media posting schedule. All-in-one social media tools, like Later, allow you to schedule out posts on multiple platforms over multiple days. Create categories for your posts to fall under, such as educational, entertainment, or product promotions. Once you've decided on certain days or weeks for certain categories, you can begin scheduling out posts so you don't have to scramble later to push out content. Customers will start to recognize your business on their feed with consistent posting resulting in an increase in your online brand awareness.
IDENTIFY YOUR CONTENT MARKETING NICHE
Content marketing involves creating and distributing quality content to attract and engage an audience. Create unique, valuable content that makes your brand stand out against competitors. Your website content should be written in a way that makes your targeted audience want to consume the information. It should offer solutions and ways to obtain that solution. Your audience should leave feeling satisfied and confident in their decision to trust what your brand has to offer.
By creating useful and personalized content, brands also have the ability to attract customers at every stage of their buying process. Content marketing uses long-term strategies to understand what an audience needs and then consistently delivers content specifically created to fit those needs. From start to finish, consumers are provided with information that guides them from learning about the product to being satisfied with their decision to purchase the product. Content marketing is powerful, and when used correctly, it can help your brand stand out against even the biggest competitors.
When it comes down to identifying your content marketing niche, it can be anything from educational or entertaining blog posts to weekly podcasts. Find something that separates you from your competitors and regularly push out that content so customers become accustomed to looking forward to it.
INVEST IN SWAG (IF THE BUDGET ALLOWS)
Swag is promotional merchandise with your logo and company name such as notebooks, pens, t-shirts, and more. The possibilities for swag are endless, but you'll want to make sure you're investing money into items your customers will actually use. Distributing free promotional merchandise puts your company name directly into the homes of your consumers. The next time they need to use a pen, for example, they'll be reminded of your business. Swag establishes recognition.
PARTICIPATE IN LOCAL EVENTS
Local events like career fairs, service clubs, seasonal markets, trade shows, and workshops all offer opportunities for you to re-introduce your company and promote brand awareness. You'll have the chance to be the face for your company and meet with customers in person. Use your presence to captivate your audience, especially since you know these are customers within your local, target market. Take this chance to get to know your customers and what they're looking for from your brand and businesses like it.
Local events provide a space to socialize and network with other local business owners. You may find they have something to offer your business, and provide insight into how others operate their business. As we'll expand upon a little bit later, networking can also lead to potential partnerships with other local businesses.
CONSIDER A REFERRAL PROGRAM
While many marketing efforts have transitioned to the digital world, one method that has stayed tried-and-true is word of mouth. Let your customers be your brand's biggest advocates and consider offering them a referral program. Referral programs can be as simple as offering 10% off a purchase when they bring a family member or friend to your physical store, or offering 10% off a product or service online when they refer a friend.
A referral program not only offers benefits to your loyal customers, but also increases brand awareness when those customers talk about your business. You can earn new customers while also offering an incentive to your current customers.
PARTNER WITH OTHER LOCAL BUSINESSES
Partnering with other local businesses can build even more trust in your brand. You'll be able to utilize the audience and authority from these partners, while also introducing yourself as a partner.
For example, a florist could potentially partner with a local wedding planning business. Flowers are often a large part of the wedding budget. Both businesses could work together to offer discounts and referrals. Partnering with another brand could both increase your customer base and revenue.
CREATE A RELEVANT CAMPAIGN THAT SPEAKS TO YOUR AUDIENCE
Is there something going on in your community right now that people can relate to? For example, is your local high school football team going to state? Or maybe your community hosts a large, annual event every year. Take this time to become part of the trend and relate to your customers on a personal level. Look for trending hashtags in your local market, and show that you are part of the community. Use the trending hashtag in your campaign, or create a whole new one to show your support and encourage others to use it also. Remind your community that you are all part of a team.
Still need help increasing your local brand awareness? Reach out to us! We have experience with all different types of businesses and can create a logo and brand strategy that works specifically for you. Our mission is simple – to make our clients wildly successful!
Keep reading!
Recent Blogs